Donations
Welcome to the City of Mesquite Donation page. If you would like to support the following City programs through a donation, please follow the appropriate links below. There are two ways to donate: 1) a one-time donation through our online payment system or 2) an on-going monthly donation through your water bill. Donations to the City of Mesquite are tax deductible. Thank you in advance for your support.

Santa Cop Toy Program
The mission of the Santa Cop Toy Program is to provide assistance during the Christmas season to disadvantaged children and families in Mesquite and the surrounding communities served by the Mesquite Independent School District. The success of the Santa Cop Toy Program would not be possible without the generous support of the community. We can only achieve this goal with the goodwill and support of Mesquite residents, businesses, and civic groups in the community. Through your contributions, Santa Cop will provide families with age appropriate toys.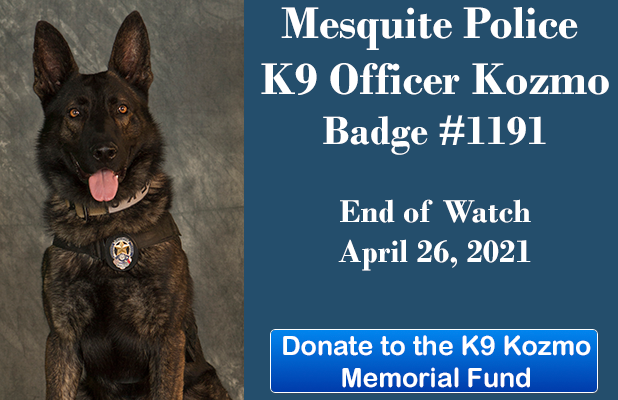 Mesquite Police K9 Officer Kozmo, Badge # 1191, began his career with the Mesquite Police Department in March of 2017. During his four-year career with MPD, K9 Kozmo and his human partner (and best friend), Officer Jason Crawford, assisted with the locating of over 200 criminal suspects and the seizure of nearly 200 lbs. of illegal narcotics.

K9 Kozmo was the best of the best. He was a loyal partner to his handler and a dedicated servant to our community. K9 Kozmo excelled in all aspects of police canine work; however, he and Officer Crawford REALLY enjoyed tracking and locating felony suspects who had escaped capture.

K9 Kozmo was killed in the line of duty on April 26, 2021 while valiantly serving our community. While we mourn the loss of our family member, we appreciate his sacrifice and know that his service has made Mesquite a safer place to live and work.

We are extremely grateful for the outpouring of support from our community during this difficult time. All donations received will go directly to our K9 Unit and will be used to purchase equipment and training for our K9 teams.

Rest in Peace Kozmo – you will be missed, but never forgotten.
---
Keep Mesquite Beautiful
Spread the Love
The Spread the Love campaign encourages the donation of peanut butter and jelly to help feed children in food insecure families during the summer when free or reduced school lunches are unavailable. Donations are distributed by Sharing Life Community Outreach. Visit www.cityofmesquite.com/SpreadTheLove for more information.
Addressing Mesquite Day
Animal Shelter
Historic Mesquite, Inc.
Mesquite Library
Mesquite Arts Center
Helping Others in Mesquite Everyday (HOME)